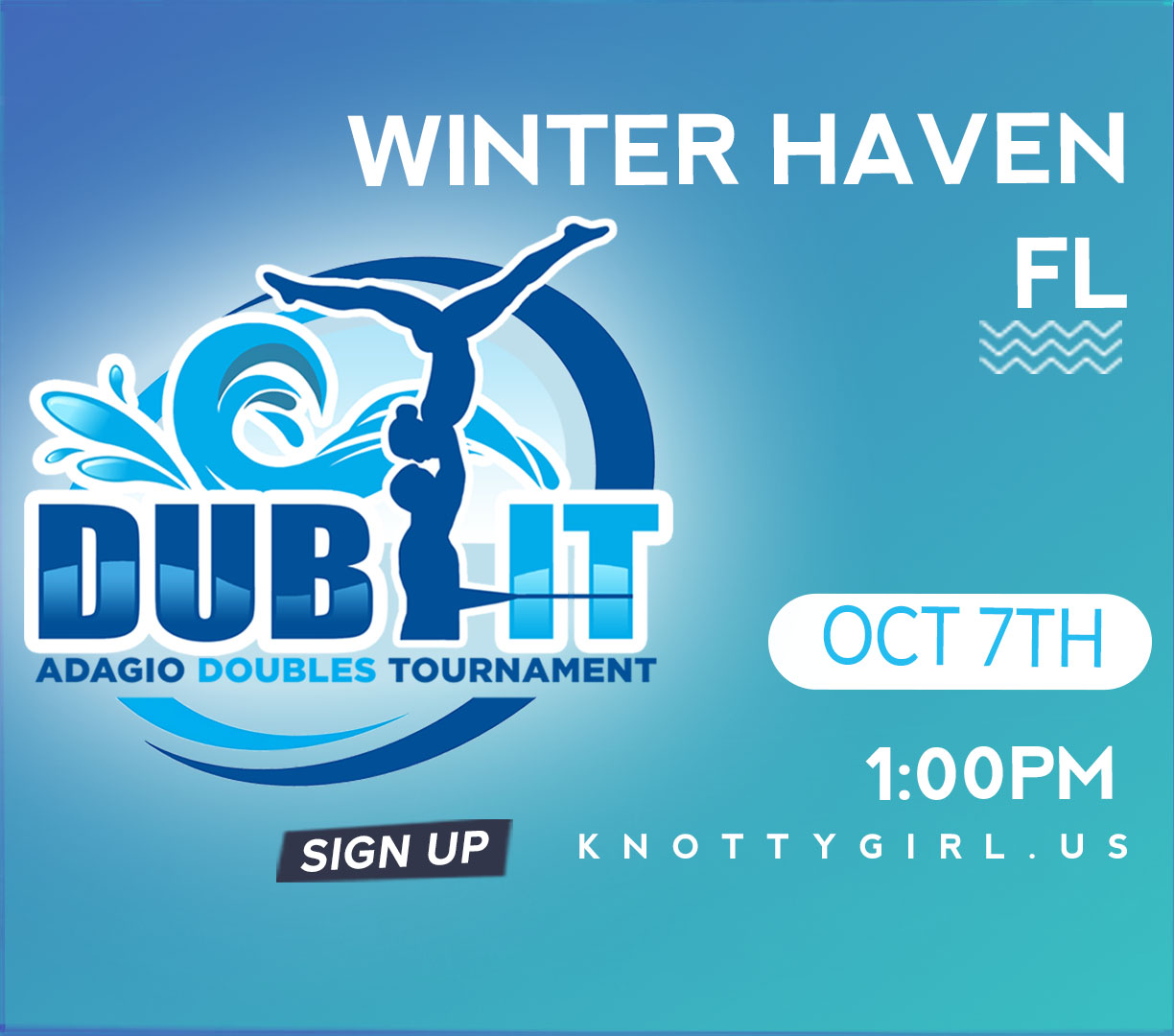 Dub It – Florida
Knotty Girl will host a DUB IT tour stop in Florida on October 7th, 2023. The competition will begin at 1:00pm – 3:00pm with the beginner division, intermediate division followed by the Open division.
Entries will be taken on a first come, first serve basis and the deadline for entering will be October 5th, 2023. The entry fee will be $50 per individual entry ($100 per couple). A Tournament t-shirt is included in the entry fee along with trophies and prizes will be awarded to 1st – 3rd place in EACH division. Any doubles couple canceling on October 5th, 2023 or after, will forfeit their entry fees.  The running order will be determined by the order of the entry date and the running order will be posted on the event website, social media and emailed.  We will supply one towboat with a quick release and a competent tested boat driver along with a designated pin puller who may be used by all of the competitors or you may supply your own. *If you would like to supply your own USA Water Ski Rated Driver, you may do so also.
Competitors may check in at the MLK Park in Winter Haven on October 7th, between 12:00PM and 12:30PM (safety meeting at 12:45). Once competitors are completely registered, couples are to be around the starting dock 2 performances prior to your scheduled performance.  Each couple will have the opportunity to perform a 5 minute themed routine. (THIS WILL NOT BE TIMED) Each couple will be allowed the same 5 passes (off the dock pass 1, pass 2, pass 3, pass 4 and last pass 5 is back to center stage). Couples are scored using the same scoring system and rules for NSSA Regionals and National events.  Please be sure to fill out the NEW MANEUVERS FORM and return 4 DAYS BEFORE THE TOURNAMENT and we will send you a link to upload your music before the event.  Plan to always have a back up of your music file on a flash drive. No distasteful music please.
12:00pm - 12:30pm

12:45pm

1:00pm

2:00pm

3:00pm

4:00pm
RUNNING ORDER WILL BE POSTED HERE